Drum Buffing Tools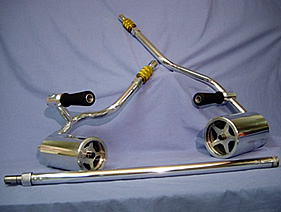 The Long Arm drum buffers & the Short Arm drum buffers are built with the commercial user in mind.  They have the highest quality Atlas Copco air motors available on the market today. They have five vanes with multi-step planetary gears. They produce 1.13 horse power at 4200 rpm. The air consumption is 20 - 35 cubic feet per minute at 90 psi.  The polishing drum on our tools are made of 6061 aircraft aluminum billet material milled on a computerized CNC milling machine for a totally balanced drum. The buffing pads are held on with a spring steel ring that is easily removed for convenience of changing pads quickly.  The throttles are twist type like a motorcycle throttle with "cruise control".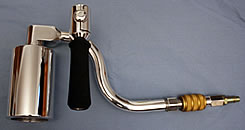 New Buffmaster® Auto Polisher
We also have a brand new drum auto buffer.  It is designed for polishing the automobile.  It can also be used on smaller jets where the hanger has less air than what can support the larger buffers.   The Drum is 4" in diameter by 6" long and it has the same handle as the short arm buffer, 18" long.  This tool also has an Atlas Copco Air motor in it.
TECHNICAL SPECIFICATIONS
Click here for technical specifications on our Buffmaster® Drum Buffing Tools.
MAINTENANCE

Our drum buffers have an easy maintenance program with a little air tool oil and small amount of grease.  Motor parts are available from us or from Atlas Copco. They have distributors all over the world.
The Atlas Copco air motor can be rebuilt in less than 15 minutes.  They are the easiest air motors to work on ever, but with good oiling and greasing you will rarely have to work on them.
We service all tools we sell and have a one year warranty on parts and labor. You can depend on our fast service.
Extension Bars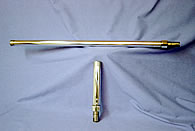 Buffmaster tools can be used with the extension bars to help increase your reach. Our machine shop can custom build tools and handles for special polishing requirements. If you don't see it, ask for it.
ATLAS COPCO AIR COMPRESSOR
Looking for an outstanding air-compressor??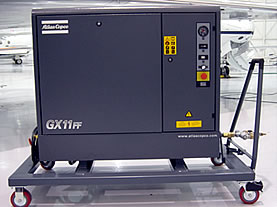 This is a full feature air- compressor with after cooler, refrigerated drier, and filters built into the cabinet.  This compressor puts out clean and dry air. I have never seen a drop of water out of this compressor. 
We made our Atlas Copco screw air compressor portable to carry with us to jobs without a large air supply.

Call for information. (248) 969-8316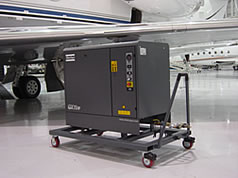 GX11 Full Feature
52 CFM at 125 lbs

230 – 480 volts
Three phase

15 horse power

Noise level
70 dB, (very quiet)

Energy saving turn off feature

660 lbs with 80 gallon tank


We proudly accept VISA, MasterCard, and American Express.
Copyright 2007, Buffmaster Tools, LLC