†

Great Lakes Aircraft Detailing Services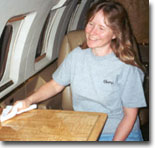 Great Lakes Aircraft Detailing is a full service firm offering state-of-the-art polishing and interior and exterior cleaning for all corporate aircraft.

Our detailing program includes interior detailing between flights, leather treatments, and carpet cleaning and stain removing system. We do exterior cleaning between flights. Also available is washing of the exterior including wheels and landing gears.
We are located in the southeastern part of Michigan. Need detailing? †Call us at 248.342.8208 and if we canít help you, we may know a company in your area who can provide the same quality service.
†Aircraft Polishing

Our company polishes aircraft paint and aluminum leading edges of Corporate Jets on a daily basis. We have years of experience polishing Gulfstreams, Hawkers, Falcons, and Citations. We are known as one of the leaders in this industry and we are continuously striving for excellence.

†

†


We proudly accept VISA, MasterCard, and American Express..
Copyright 2007, Buffmaster Tools, LLC